From Wikipedia: "Architecture for Humanity is a charitable organization that seeks architectural solutions to humanitarian crises and brings professional design services to communities in need. They believe that where resources and expertise are scarce, innovative, sustainable and collaborative design can make a difference."
Website: http://architectureforhumanity.org/
History and Main Goals
Edit
Founded by Cameron Sinclair and Kate Stohr in 1999, the non-profit organization focuses on providing design and construction management work in areas which have either been affected by some sort of disaster, or are simply developing parts of the world. One of the goals of the organization is to use the materials found locally to the region or other cheap materials in innovative ways, to built structures for community use. The main organization was founded in 1999 and focuses on working in the developing world, but local branches of Architecture for Humanity may focus on projects which are closer to home, as in the Toronto Branch: http://toronto.architectureforhumanity.org/
Many of the buildings which are built though Architecture for Humanity involve the use of community labour (ensuring that their wages stay in the community) and environmentally friendly, sustainable design, however neither of these are the main goals of the organization. Their goal is to bring professional design and construction to the poorest parts of the world, to try to bring the best design possible to where it is needed the most.
Types of Projects (ie. Buildings, outreach, etc.)
Edit
Architecture for Humanity focuses on the designing, constructing and development of different architectural projects specifically areas in the world that are in need. Their projects can range from housing to basketall courts to sanitation facilities. They also work to build various community centers and schools, all of which are sustainable and serve multi-purpose functions.
Current Projects
Edit
One of the current projects that Architecture for Humanity is working on is the Mahiga Hope High School in Mahiga, Kenya. It is a project in partnership with The Nobelity Project; the local community in Mahiga, Kenya; Nike; Safaricom and others. The main building has two stories with eight classrooms, a library and a computer lab. Seperate buildings include a science building with biology, chemistry and physics lab, a new kitchen, dining room/study hall, sanitation facilities, multiple rainwater systems and a new preschool. The goal of this Mahiga Hope High School is to provide a full 12 year education for every child without tuition charges.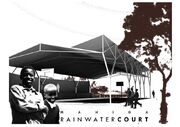 Along with the high school, a Rainwater Court is also being built. Designer Greg Elsner, the winner of the Nike GameChangers award, from Architecture for Humanity is on-site for a year to build the Rainwater Court. It is a full basketball court with an integrated rainwater collection and UV purification system. Solar panels not only powers the water system but also night lighting or areas without electricity. The Rainwater Court collects an estimated 90,000 liters of water each year. The court not only provides a sport facility and purified drinking water but it can also serve as a covered performance space for local music and theater, an outdoor/covered classroom, a dining area and become the area's only community meeting space, a covered farmer's market and more. In the construction of the court, Architecture for Humanity will use 100% local sustainable and recycled material, such as the Nike Grind (recycled tennis shoe soles) for the surface of the basketball court.
Here is the complete list of projects that they are currently working on:
Project Name
Location
Designer
Partners
Project Summary
Guardian's Institute
New Orleans, LA

Jens Holm,

Rockwell Group

Founded by Herreast Harrison and her children in loving memory of their father, Donald Harrison, Sr., the celebrated Cheif of the Mardi Gras Indian group, Guardians of the Flame. It is small recreational facility that hopes to promote the distinct cultural traditions of New Orleans, promote literacy and encourage physical-well being especially among children.
Earthquake Reconstruction in Haiti
Port-au-Prince, Haiti
Various

AIDG (Appropriate Infrastructure

Development Group), Barefoot

Foundation, Concern Worldwide

and others

Three reconstruction programs run by The Haiti Team of Architecture for Humanity to coordinate and collaborate various organizations to design and construct primary and secondary schools in Port-Au-Prince. In 5 years, AfH intends to transfer the ongoing operations to Haitian hands along with a long-term plan for reconstruction.
Baguinéda Football for Hope Centre
Bamako, Mali

Michael Heublein

and M. Youseff

Berthe

AMPJF, streetfootballworld, FIFA
Nakaseeta Academy
Nakaseeta
Gifford, LLC
Building Tomorrow
A primary school located in Nakaseeta in rural southern Uganda. It combines sustainable design, innovations in community use and flexibility.
Kimisagara Football for Hope Centre
Kigali, Rwanda
Killian Doherty
Espérance, streetfootballworld, FIFA
Part of FIFA's "20 Centres for 2010" campaign which aims to raise funds to create 20 Football for Hope Centres for public health, education and football across Africa. Kimisagara's center hopes to host various football programmes within the areas of anti-aids, education and peacebuilding; to fight the ethnic divide in th Rwandan population.

Homeless World Cup

- Youth and Women's Leadership Center

Santa Cruz, Rio de Janeiro,


Brazil

Lompreta Nolte

Arquitetos / Nanda

Eskes Arquitetura,

Daniel Feldman

Homeless World Cup, Instituto

Bola Pra Frente and Nike Social

Innovations

A project to sustainable and inventive community centers aimed towards homeless women and youth. It hopes to provide programs such as leadership training, personal skills development, academic advancement, and athletic training through the involvement in team sports. It focuses on youth and women empowerment through the above programs.

Mobile Retail Kiosk

- Homeless World Cup Legacy Brazil 2010

Rio de Janeiro, Brazil
Daniel Feldman

Homeless World Cup, Instituto

Bola Pra Frente, Organização

Civil de Ação Social (OCAS),

Nike Social Innovations

Creating small mobile kiosks that are easily replicated and sustainable to sell Homeless World Cup Fan Wear. Through these kiosks, job and income opportunities will be created.
Navajo Elder Strawbale Housing
Navajo Nation
Nathaniel Corum

Indigenous Community

Enterprises

Lesotho Football for Hope Center
Maseru, Lesotho
Axel Stelter
Kick4Life, streetfootballworld and FIFA
Austin Ventures Orphanage
Bhawanipur, Orissa, India
Saruja Jhawar
Miracle Foundation
Mathare Football for Hope Centre
Nairobi, Kenya
Studio 610
MYSA, streetfootballworld, FIFA
Green Charter School Facility Guide
San Francisco
Various
NCB Capital
Mahiga Rainwater Court
Mahiga, Kenya

Greg Elsner, Dick

Clark Architecture

Nike Social Innovations/Nobelity Project
Mahiga Hope High School
Mahiga, Kenya

Multiplx Systems, Design


Support - Greg Elsner

Nobelity Project
Oguaa Football for Hope Centre
Cape Coast, Ghana
Joe Addo, Contructs LLC
Play Soccer, streetfootballworld, FIFA
SIDAREC Technology and Media Lab

Mukuru kwa Njenga,


Nairobi, Kenya

The Global Studio,


Planning Systems

SIDAREC
Katutura Football for Hope Centre
Windhoek, Namibia

Nina Maritz and


Paul Munting

Special Olympics Namibia,

streetfootballworld, FIFA

Tetib Valley Community School
Victor, Idaho, USA
[DC] Workshop
Teton Valley Community School

For more detailed information, you can visit their project list here: http://architectureforhumanity.org/projects
Cameron Sinclair
Edit
After training as an architect, Cameron Sinclair (then age 24) joined Kate Stohr to foundArchitecture for Humanity, a nonprofit that helps architects apply their skills to humanitarian efforts. Starting with just $700 and a simple web site in 1999, AFH has grown into an international hub for humanitarian design, offering innovative solutions to housing problems in all corners of the globe. 

Whether rebuilding earthquake-ravaged Bam in Iran, designing a soccer field doubling as an HIV/AIDS clinic in Africa, housing refugees on the Afghan border, or helping Katrina victims rebuild, Architecture for Humanity works by Sinclair's mantra: "Design like you give a damn." (Sinclair and Stohr cowrote a book by the same name, released in 2006.)
A regular contributor to the sustainability blog Worldchanging.com, Sinclair is now working on the Open Architecture Network, born from the wish he made when he accepted the 2006 TED Prize: to build a global, open-source network where architects, governments and NGOs can share and implement design plans to house the world. "Cameron Sinclair is doing his best to save the world, one emergency shelter and mobile AIDS clinic at a time."Washington Post
Open Architecture Network
Edit
Le Corbusier had it wrong.

One billion people live in abject poverty. Four billion live in fragile but growing economies. One in seven people live in slum settlements. By 2020 it will be one in three. We don't need to choose between architecture or revolution. What we need is an architectural revolution.

The U.N. Millennium Development Goals aim to "achieve improvement in the lives of 100 million slum dwellers by the year 2015." Reaching this goal will require a profoundly new approach to improving the built environment.

The Open Architecture Network aims to be just such a catalyst for change.

What is the Open Architecture Network?

The Open Architecture Network is an online, open source community dedicated to improving living conditions through innovative and sustainable design. Here designers of all persuasions can:

• Share their ideas, designs and plans
• View and review designs posted by others
• Collaborate with each other, people in other professions and community leaders to address specific design challenges
• Manage design projects from concept to implementation
• Communicate easily amongst team members
• Protect their intellectual property rights using the Creative Commons "some rights reserved" licensing system and be shielded from unwarranted liability
• Build a more sustainable future

Who is behind this?

The Open Architecture Network is the brainchild of Architecture for Humanity and the designers who volunteer with us and through our local chapters. It grew out of our collective frustration in sharing ideas and trying to work together to address shelter needs after disaster, in informal settlements and in our own communities.

Architecture for Humanity is a 501(c)(3) charitable organization that seeks architectural solutions to humanitarian crises and brings design services to communities in need. To learn more about our work, please visit our website.

Who else is behind this?

The Open Architecture Network is the result of a yearlong partnership that began in spring 2006 when Architecture for Humanity won the prestigious TED Prize. Each year the TED community honors three individuals who have positively impacted life on this planet. Recipients are granted one wish to change the world. Members of the TED community voluntarily contribute to granting the wish, by offering their resources and talent. Our wish: To build on our success creating opportunities for architects to help communities in crises. We envisioned a truly collaborative online community and gathering place for those dedicated to improving the built environment.

Sun Microsystems,Hot Studio,Creative Commons, AMD and other partners joined Architecture for Humanity in realizing this ambitious undertaking, and at this year's TED conference, together we launched a beta version of the Open Architecture Network: the first site to offer open source architectural plans and blueprints on the web.

Who will the Open Architecture Network serve?

Architects, designers, engineers and anyone else involved in the building trades is welcome to share their ideas on the network - but the network is not just for professionals. Community leaders, nonprofit groups, volunteer organizations, government agencies, technology partners, healthcare workers, educators and others are also invited to collaborate on projects and share their expertise. After all if we're to meaningfully address the challenges of building a sustainable future, we'll need (a lot of) help from people of all walks of life.

What is our goal?

Far from replacing the traditional architect, the goal of the network is to allow designers to work together in a whole new way, a way that enables 5 billion potential clients to access their skills and expertise. The network has a simple mission: to generate not one idea but the hundreds of thousands of design ideas needed to improve living conditions for all.

Let the revolution begin.

Community content is available under
CC-BY-SA
unless otherwise noted.